This edition of Mundos Digitales has been specially incredible, the speaker line up was fantastic, the material shown gets better and better every year and ended up being very spacial to me.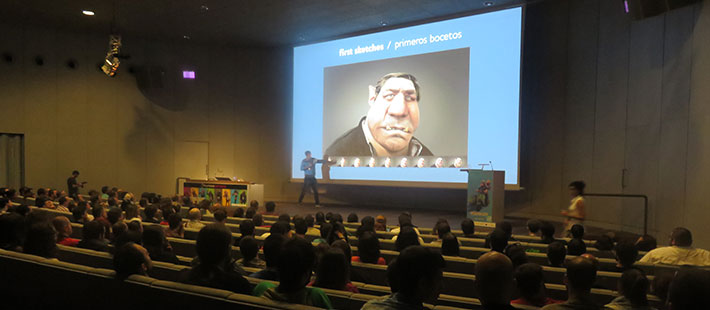 My talk about "Thomson – Simon the Ogre" was really well received and if this was not enough, I was honoured with the Special Prize at Mundos Digitales 2014 for my contribution to the industry that left me almost speechless.
The various newspapers published various interviews in spanish recording the event;
Personally, I was floating on a cloud as I met Dr Paul Devebec who I consider the most important contributor to the industry with his Research at the acclaimed USC, also Javier Fesser who is one of my favourite directors and his wit, sense of humour and down to earth personality has been incredible but also, my friend Carlos Granjel who is probably the most influential character designer in the world and was running a workshop for kids, something I am sure will influence their lives and may produce a new wave or top artists.
I want to thank the organisation and specially Manuel Meijide for the incredible effort, single handedly he is championing a change that surely should be supported by everybody and specially the spanish government. It is efforts by these groups of individuals that can change an industry and should be used as a reference of what the country needs in these difficult economic conditions.
For the sponsors, appreciation is plenty, specially in the current economic conditions, so thank you very much.
I only hope we can meet again next year.